Our mission
Starting a marriage and business at the same time, from ground zero, was not an easy proposition. But with lots of prayers, patience and hard work, Britt & Leigh Stoudenmire have built their business and reputation in the tourism industry while establishing themselves as one of the top outfitters, guide services, and cabin retreats in Virginia. From the very beginning, the Stoudenmires have modeled their businesses by putting an emphasis on their clients' experience and providing quality services and have even received numerous awards for their work. They are excited about what the future holds and look forward to continuing to provide first-class recreational and lodging opportunities to those visiting the New River Valley.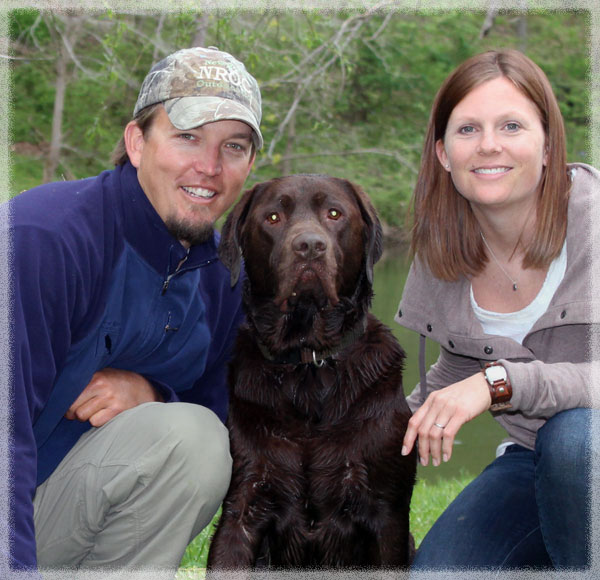 Starting Out
The Stoudenmires opened for business out of the first floor of their home in Pearisburg, VA in the spring of 2004. Initially, they offered canoe and kayak rentals and guided smallmouth trips on the New River, as well as two cabin (Creekside Lodge and Tabor Hollow Cabin) rentals on their newly purchased 50-acre property on Walker Creek. They soon added to their cabin rental line-up by building the Bearfoot Cabin which opened for rental at the beginning of the 2008. The increasing demand for their guiding, outfitting and lodging services continued to grow so they built a fourth cabin (Moosehead Lodge) and moved their place of business to its current location in Pembroke, VA for the 2009 season.
Moving Forward
Since moving their business to Pembroke, the Stoudenmires have built an additional log cabin (Anglers' Roost) and remodeled two rentals (Eagle's Nest and Creekside Lodge). In 2013, they took a winter off from cabin projects and focused on expanding their family with the birth of their daughter, whose presence has since become the highlight of both our long-time & new visitors. In the fall of 2015, they embarked on their latest project, purchasing another 90-acres on Walker Creek, just upstream from their original location, and breaking ground on their Red Pine Cottage. It opened for rentals in June of 2016 and is the first in their new series of high-end vacation rentals they plan to unveil over the course of the next several years. Currently, Walker Creek Retreat encompasses five cabins and cottages offering guests a collection of unique, water-front lodging options in the New River Valley .